Royal Thin Brick® | Authentic Kiln-Fired Unglazed Thin Brick
For interior and exterior applications, Royal Thin Brick provides the look of traditionally crafted brick because it is traditionally crafted brick–only thinner. Whether it is Georgian, contemporary or any style in between, elevate your residential or commercial project with beautiful, modern thin brick.
Royal Thin Brick is different from faux brick veneer products, which are usually made from concrete or other porous materials. Royal Thin Bricks are crafted from Ohio and Pennsylvania clay and shale, extruded, and kiln-fired in the time-honored brickmaking tradition. But unlike full bricks, Royal Thin Bricks can be applied like tile or as part of a wall system. The only difference between Royal Thin Brick and full-faced brick? Its narrower ⅝'' profile–and lower cost.
With a lightly distressed appearance and larger modern size, Royal Thin Brick is decidedly contemporary and upscale. We offer this product in classic and on-trend colors, with choices ranging from earthy browns to rich reds, grays and black. We strive to give architects and designers a selection that will match and elevate any project–and maybe even inspire your next design.

A Thin Brick Made with Time-Tested Craftsmanship
Authenticity–using materials that are real–is important to you and your clients. Royal Thin Brick is real masonry, kiln-fired and unglazed. Our flat bricks are manufactured using the same time-tested method as full bricks: extruded, wire cut and kiln-fired at 2000° F. The result is a thin brick that looks and performs like a full brick and can withstand harsh weather and act as a proven moisture barrier.
While there are a variety of brick veneers on the market, many are made of cast, pressed, or molded concrete or other porous materials. Royal Thin Bricks offer the superior moisture resistance and performance of real brick. Other thin bricks, even true masonry thin bricks, are cut from the face of full bricks, which is a wasteful process. Other brands also do not offer the durability and low moisture absorption of Royal Thin Brick. Durable Royal Thin Brick can withstand freeze-thaw conditions in any climate.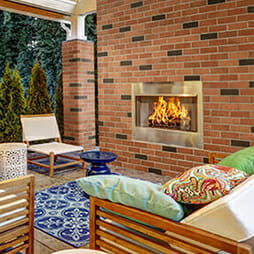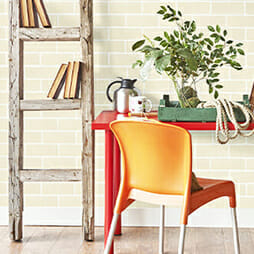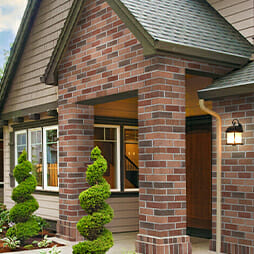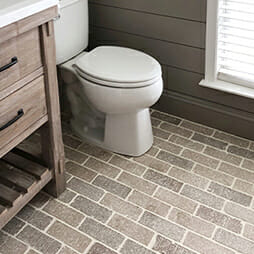 Applications
Royal Thin Brick can be used on supported or unsupported walls, in new construction or renovations. The brick installs like tile, making it more versatile than standard brick. Its lighter bulk means Royal Thin Brick can be installed on any properly prepared substrate without the need for an additional foundation that is required for a full brick installation. Royal Thin Bricks are ribbed on the back, so they bond tightly to the setting material. This comparative ease of installation also means Royal Thin Brick can be installed and grouted without a mason, keeping projects on schedule and on budget.
Royal Thin Brick® adds a rustic, on-trend design feature for indoor applications such as:
accent walls
floors
backsplashes
fireplace surrounds
Outdoors, Thin Brick can be used as:
commercial/residential facades
walkway pavers,
steps
door stoops
fireplace surrounds
Whether your project is a redesign or new construction, enhance and elevate it with the real thin brick, Royal Thin Brick.